Select any Startup on the website and you will see a list of the VCs for it
Calculation of investment attractiveness
The AI-based predictive investment algorithm Parsers VC calculates the investment attractiveness (IA) of startups based on 26 parameters. The investment attractiveness of a startup is calculated for each VC separately. AI determines the requirements of the venture fund and calculates the IA values of startups in the portfolio, then we determine the threshold (median) value for all venture funds. Based on this value, we select the best venture capital funds whose investment focus is on a startup.
The algorithm calculates such parameters as:
startup stage
location,
categories,
biography of the founders,
size of funding rounds,
mentions in the press,
number of users etc.
The quality of the selection of VCs directly depends on the quality of filling out the startup profile. In well-filled startup profiles, we predict about 90% of rounds.
Values in the Table of Predictive Investments for Startups
1 value in the table of Predictive Investments -> Investment Attractiveness indicates the Investment Attractiveness of the Startup for this VC.
2 value in the table indicates the average value of the investment attractiveness of startups in the portfolio of this VC.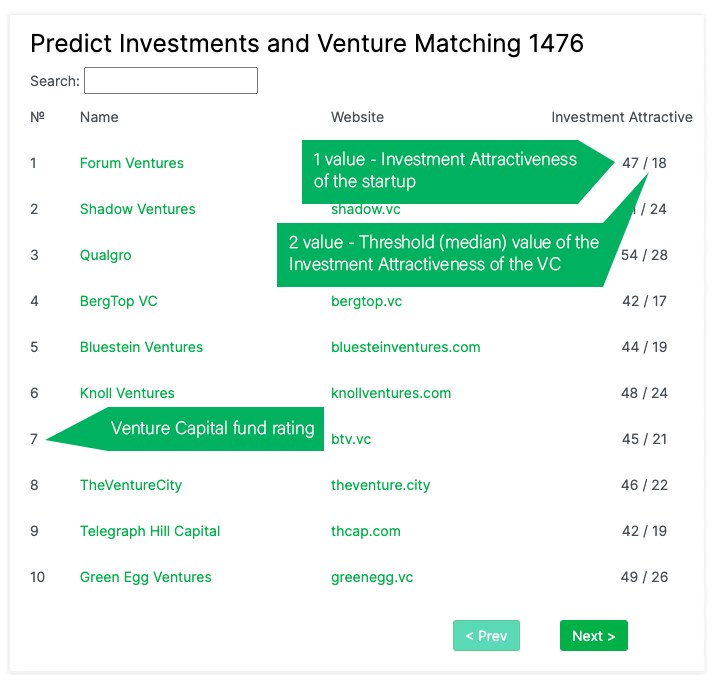 Rating of VCs based on investment attractiveness
The rating of venture capital funds is calculated separately for each startup based on the difference between the investment attractiveness of the startup and the threshold value of the fund.
In the table search, you can find the VC rating for a particular startup. If a VC is not in the search, then this means that the threshold value of the investment attractiveness of a venture fund is higher than the investment attractiveness of a startup or it is not in the database.
Adding/Editing a Startup
Predictive investments for a startup are calculated based on the data in the startup profile. So for a better selection of venture capital funds, update or add information about the startup. You need SingUp with a startup domain email or add it to an existing one in order to have editing access. You can add a startup if it is not in the database, just click Add company, enter the website of the startup and our algorithm will collect information about the startup on the web. Next, check and add information if something is missing.